Our company
Roth Design Inc. is a Canadian based company which opened its doors in 1998. Located in London Ontario, we specialize in custom made unique furniture, built-ins, kitchens, but we also like to challenge ourselves by taking on virtually any space. We think of our furniture and projects as the canvas where we can create works of art.

With our design services we can help our clients create spaces with the best layouts, colors, and accessories, leaving them with a truly complete design. This is achieved by working with our clients and listening carefully to their visions and desires. We feel that through this colaboration we can develop the best possible solutions.


Our Mission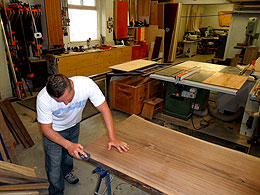 Our mission is to manufacture well designed furniture that incorporates form and function, quality and style.

We are driven by an appreciation for the simple raw beauty of wood and a desire to find new ways to celebrate and showcase its beauty.





When I go to the local mill - the owner usually asks me what I am looking for. I respond, "I'm not sure, but when I see it I'll let you know."

When I lay my eyes & hands on a beautifull piece of lumber, the creative juices begin to flow and at that exact moment the pieces start to take shape in my mind. It then evolves from there into a beautifull unique piece of furniture . - Andy
Design / Build
Andy Roth
In his large studio, Andy creates the pieces that come alive in your home or business. Using wood as his primary material Andy is meticulous in combining quality with beauty in all of his projects.


Sylvie Roth
Sylvie will work with the client to develop the overall look and layout of a space and finish it with the proper colors and accessories to compliment the entire project.